Posts for tag: orthodontic treatment
By Denver Sleep Apnea Center
December 18, 2018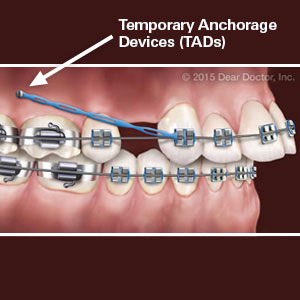 Orthodontics shares a principle with the classic tug of war game: if you want things to move in the right direction you need a good anchor. Anchors help braces and other appliances apply constant pressure to misaligned teeth in the direction they need to go to correct a malocclusion (poor bite).
Orthodontic treatments work in cooperation with an existing oral mechanism that already moves teeth naturally in response to biting forces or other environmental factors. The key to this mechanism is an elastic tissue known as the periodontal ligament that lies between the tooth and the bone. Besides holding teeth in place through tiny attached fibers, the ligament also allows the teeth to move in tiny increments.
Braces' wires laced through brackets affixed to the teeth exert pressure on them in the desired direction of movement –the periodontal ligament and other structures do the rest. To maintain that pressure we need to attach them to an "anchor"—in basic malocclusions that's usually the back molar teeth.
But not all malocclusions are that simple. Some may require moving only certain teeth while not moving their neighbors. Younger patients' jaws and facial structures still under development may also need to be considered during orthodontic treatment. That's why orthodontists have other anchorage methods to address these possible complications.
One example of an alternate anchorage is a headgear appliance that actually uses the patient's skull as the anchor. The headgear consists of a strap running around the back of the head and attached in front to orthodontic brackets (usually on molar teeth). The pressure it exerts can trigger tooth movement, but it can also help influence jaw development if an upper or lower jaw is growing too far forward or back.
Another useful anchorage method is a tiny metal screw called a temporary anchorage device (TAD) that is implanted into the jawbone above the teeth through the gums. Orthodontists then attach elastic bands between implanted TADs and specific braces' brackets or wires to exert pressure on certain teeth but not others with pinpoint accuracy. After treatment the TADs can be easily removed.
Using these and other appliances allows orthodontists to customize treatment to an individual patient's particular malocclusion. With the right anchor, even the most complex bite problem can be transformed into a beautiful and healthy smile.
If you would like more information on orthodontic treatment, please contact us or schedule an appointment for a consultation. You can also learn more about this topic by reading the Dear Doctor magazine article "Orthodontic Headgear & Other Anchorage Appliances."
By Denver Sleep Apnea Center
October 19, 2018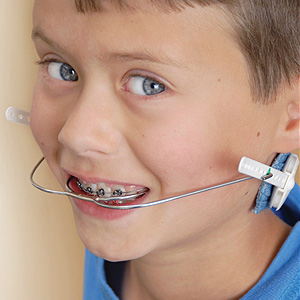 Braces utilize the mouth's existing teeth-moving mechanism by applying pressure in the direction of the desired movement. This is done with a wire laced through metal brackets affixed to the outside of the teeth that's then usually anchored to brackets on the back teeth to maintain constant tension.
This anchorage set-up alone, however, may not work effectively with all bite situations, which might require other points of anchorage. That's where these other tools in the orthodontist's toolkit can come in handy.
Headgear. These appliances not only aid with moving teeth but they also help influence the proper growth of facial structures (as when one of the jaws is too far forward or too far back). Because of this influence on jaw growth you'll only find them used with pre-teens. The most typical application is a strap running around the back of the head or neck (or sometimes over the chin or forehead) that attaches in the front to brackets usually bonded to the molars. In this case the back of the patient's skull serves as the anchor point.
Temporary anchorage devices (TADs). Orthodontists sometimes wish to isolate the teeth to be moved from nearby teeth that shouldn't be. For example, they may want to move front teeth back to close a space without the back teeth moving forward. In this case, it may be necessary to create a separate anchorage point in the jaw. This can be done with TADs, which are made of either biotolerant (stainless steel, chromiumâ??cobalt alloy), bioinert (titanium, carbon), or bioactive (hydroxyapatite, ceramic oxidized aluminum) materials and shaped like mini-screws. Orthodontists insert them into the bone and then attach them to the braces using elastics (rubber bands). After completing orthodontic treatment they're easily removed.
Elastics. We've already mentioned them, but elastics deserve their own category because they can be used in various kinds of anchorage. They play an important role, for example, in cross-arch anchorage that maintains tension between the upper and lower jaws. They can also be used to help move one or more groups of teeth — or isolate certain teeth from moving. They truly are flexible (no pun intended) in their uses for fine-tuned tooth movement.
All these devices can be used in various combinations to match and correct whatever bite situation a patient may have. The end result is straighter and better-functioning teeth — and a more attractive smile.
If you would like more information on orthodontic treatment, please contact us or schedule an appointment for a consultation. You can also learn more about this topic by reading the Dear Doctor magazine article "Orthodontic Headgear & Other Anchorage Appliances."
In her decades-long career, renowned actress Kathy Bates has won Golden Globes, Emmys, and many other honors. Bates began acting in her twenties, but didn't achieve national recognition until she won the best actress Oscar for Misery — when she was 42 years old! "I was told early on that because of my physique and my look, I'd probably blossom more in my middle age," she recently told Dear Doctor magazine. "[That] has certainly been true." So if there's one lesson we can take from her success, it might be that persistence pays off.
When it comes to her smile, Kathy also recognizes the value of persistence. Now 67, the veteran actress had orthodontic treatment in her 50's to straighten her teeth. Yet she is still conscientious about wearing her retainer. "I wear a retainer every night," she said. "I got lazy about it once, and then it was very difficult to put the retainer back in. So I was aware that the teeth really do move."
Indeed they do. In fact, the ability to move teeth is what makes orthodontic treatment work. By applying consistent and gentle forces, the teeth can be shifted into better positions in the smile. That's called the active stage of orthodontic treatment. Once that stage is over, another begins: the retention stage. The purpose of retention is to keep that straightened smile looking as good as it did when the braces came off. And that's where the retainer comes in.
There are several different kinds of retainers, but all have the same purpose: To hold the teeth in their new positions and keep them from shifting back to where they were. We sometimes say teeth have a "memory" — not literally, but in the sense that if left alone, teeth tend to migrate back to their former locations. And if you've worn orthodontic appliances, like braces or aligners, that means right back where you started before treatment.
By holding the teeth in place, retainers help stabilize them in their new positions. They allow new bone and ligaments to re-form and mature around them, and give the gums time to remodel themselves. This process can take months to years to be complete. But you may not need to wear a retainer all the time: Often, removable retainers are worn 24 hours a day at first; later they are worn only at night. We will let you know what's best in your individual situation.
So take a tip from Kathy Bates, star of the hit TV series American Horror Story, and wear your retainer as instructed. That's the best way to keep your straight new smile from changing back to the way it was — and to keep a bad dream from coming true.
If you would like more information about orthodontic retainers, please contact us or schedule an appointment for a consultation. You can learn more about this topic in the Dear Doctor magazine articles "Why Orthodontic Retainers?" and "The Importance of Orthodontic Retainers." The interview with Kathy Bates appears in the latest issue of Dear Doctor.